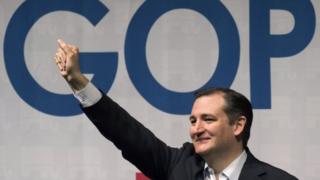 Ted Cruz has won the Kansas Republican caucuses in the latest round of voting for the US presidential nomination.
With all of the state's vote counted, Texas Senator Cruz has 48%, with billionaire Donald Trump a distant second on under 23%.
Mr Cruz is also leading in Maine, while Mr Trump is ahead in Kentucky.
Republicans are holding caucuses or primary elections in four states, with Democrats voting in three.
Overall, Mr Trump is ahead in the Republican race. Former Secretary of State Hillary Clinton leads the Democratic contest.
Efforts by Republicans to slow Mr Trump's march have until now failed.
Mitt Romney, the 2012 Republican nominee, earlier accused the businessman of bullying, greed and misogyny. Mr Trump dismissed Mr Romney as a "failed candidate".
Last week, on Super Tuesday, Mr Trump won seven of the 11 contests.
Evangelical vote
As well as the Republican caucuses in Kansas, Maine and Kentucky, a primary election is being held in Louisiana.
Speaking in Idaho, which votes on 8 March, Mr Cruz said: "What we saw in Kansas is a manifestation of a real shift in momentum."
In Maine, Mr Cruz is polling 43% with 9% of the votes counted. Mr Trump has 37%.
Meanwhile, Mr Trump (40%) is currently ahead of Mr Cruz (34%) in Kentucky, with just under 15% of the votes counted.
Republican candidates need 1,237 delegates to win the nomination. Mr Trump is 908 delegates short; 155 are available on Saturday.
Your browser does not support the iframe HTML tag. Try viewing this in a modern browser like Chrome, Safari, Firefox or Internet Explorer 9 or later.

In a number of states, the evangelical vote could prove decisive, with Mr Trump managing to draw some support from a base more usually associated with Mr Cruz.
On Friday, Ben Carson, who was at one point a Republican front-runner, dropped out of the race.
Democrats are voting in caucuses in Kansas and Nebraska, as well as in a primary election in Louisiana.
Mrs Clinton heads the race and has in recent days started targeting Mr Trump in her speeches instead of her fellow Democratic candidate Bernie Sanders.
Opinion polls suggest she has strong support in Louisiana among black voters but analysts say the race between Mrs Clinton and Mr Sanders may be close in other states on Saturday.
In all, 109 delegates are available in the Democrat races on Saturday. Mrs Clinton needs a further 1,317 delegates to win the nomination.
The election itself, on 8 November, will see America vote for a successor to Barack Obama, a Democratic president standing down after two terms in office which have seen the Republicans take control of both houses of Congress.
Election calendar: Next races
6 March: Maine caucuses: Democratic
8 March: Hawaii and Idaho caucuses: Republican; Idaho primary: Republican; Michigan and Mississippi primaries: Democratic and Republican
15 March: Florida, Illinois, Missouri, North Carolina, Ohio primaries: all Democratic and Republican