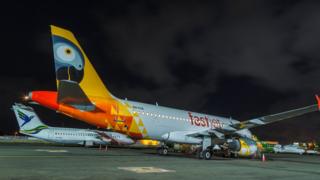 Shares in Fastjet have dropped 30% after the African budget airline issued a profit warning.
The airline, which is backed by Easyjet founder Sir Stelios Haji-Ioannou, said results in 2016 would be "materially below market expectations" amid a "challenging" African market.
Fastjet shares dropped 34% to 44.50p in early trading in London.
Last month, Stelios Haji-Ioannou said he had "lost faith" in the board and that the firm was running out of money.
Sir Stelios called for the dismissal of chief executive Ed Winter and another Fastjet director.
"Unless the board does some serious cost cutting the company will soon run out of cash," Sir Stelios warned in a letter to Fastjet's chairman.
In a trading update, Fastjet said it had over $20m (£14.1m) to meet current requirements, but the board may consider raising more funds later this year.
The company also no longer expects to generate positive cash flow for the year.
Sir Stelios' investment company Easygroup has an 11% stake in Fastjet, according to the airline.
The entrepreneur and his family still own a significant stake in Easyjet and other companies including Easygym and Easypizza.