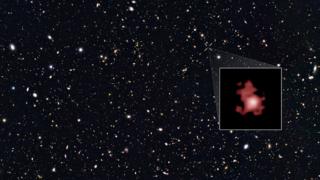 The Hubble Space Telescope has spied the most distant galaxy yet.
It is so far away that the light from this extremely faint collection of stars, catalogued as GN-z11, has taken some 13.4 billion years to reach us.
Or to put that another way – Hubble sees the galaxy as it was just 400 million years after the Big Bang.
Astronomers say they are confident about the measurement because they have been able to tease apart and analyse the object's light.
Such spectroscopic assessments are difficult to perform on the most far-flung sources, but if it can be done it produces the most reliable distance estimates.
The details of the discovery will appear shortly in an edition of the Astrophysical Journal.
"This really represents the pinnacle of Hubble's exploration of galaxies across cosmic history," said Yale University, US, astronomer Pascal Oesch, the lead author on the study. Keep Reading