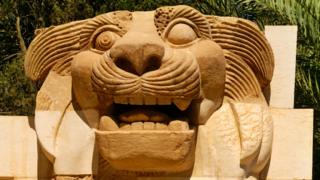 Two thousand years ago a statue of a lion watched over a temple in the ancient Syrian city of Palmyra. More recently, after being excavated in the 1970s, it became an emblem of the city and a favourite with tourists. But it was one of the first things IS militants destroyed when they moved in last year.
It's said that there are more than 300 words for lion in Arabic. That's a measure of the importance of the lion in the history of the Middle East. For Bedouin tribes, the lion represented the biggest danger in the wild – until the last one in the region died, some time in the 19th Century.
The animal was feared and admired and this must explain why a statue of a lion twice as high as a human being, weighing 15 tonnes, was fashioned by artists in ancient Palmyra.
With spiralling, somewhat loopy eyes, and thick whiskers swept back angrily along its cheek bones, the lion was clearly a fighter, but it was also a lover. In between its legs, it held a horned antelope. The antelope stretched a delicate hoof over the lion's monstrous paws, and perhaps it was safe. The lion was a symbol of protection – it was both marking and protecting the entrance to the temple.
But no-one could protect the lion when IS arrived and wrecked it in May 2015.
"It was a real shock, because you know, in a way, it was our lion," says Polish archaeologist Michal Gawlikowski, whose team unearthed it in 1977.
For well over 1,000 years, the statue had lain buried in the ruins of the ancient city, though parts had been used as foundations stones in other buildings. Keep Reading